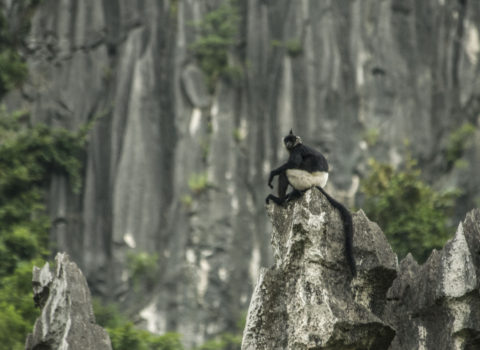 Full Day Ha Noi Wildlife and Sightseeing
Tour Infomation
Departure time: Consulting by wildlife expert
Tour duration: Full Day
Van Long Wetland Nature Reserve: about one and half hours driving from Ha Noi , the nature reserve Van Long is not only a natural reserve of wetlands but also the cultural relics. Van Long is a legendary land, a beautiful area and the largest natural reserve of wetlands and limestone mountains. Taking a bamboo boat trip to the quite and fresh air nature area to spotting wildlife is a highlight of the tour.
The nature reserve is home to 457 species of higher plants. In particular, it has 8 species recorded in Vietnam Red list. 12 species of rare animals such as white shorts langur- Delacour's Langur rachypithecus delacouri) is a critically endangered species of  endemic species to northern Vietnam. It is considered to be one of the world's most endangered primate species, accounted largest number in Van Long and only 200 individuals left , chamois, Bengal slow Loris, Asian black bear, stump-tailed macaque… In the 9 species recorded in Vietnam List such as: king cobra, water monitor, oriental Rat snake, lizards.
Highlight Species: Delacour's Langur (Endemic species of primate), White-browed Crake, Cinnamon and Yellow Bittern, Black Bittern, Pheasant-tailed Jacana, Bonellii's Eagle, Egrets, Herons.
Cuc Phuong National Park: Cuc Phuong is situated in the foothills of the northern Annamite Range. The park consists of verdant karst mountains and lush valleys. Elevation varies from 150 meters (500 feet) to 656 m (2,152 feet) at the summit of May Bac Mountain, or Silver Cloud Mountain. The limestone mountains house numerous caves, many of which are accessible for exploration.Cúc Phương is home to an amazing diversity of flora and fauna. Inhabitants of the park include 97 species of mammals, most notable endangered langurs; 300 species of birds; 36 reptilian species; 17 species of amphibians; 11 species of fish; 2,000 species ofvasculars plants, and thousands of species of insects. A number of species in the park are listed on Vietnam Red Book of endangered species.
Primate Rescuer Center:  Cuc Phuong's Endangered Primate Rescue Center (EPRC) was established in 1993 and is a project of Frankfurt Zoological Society. The establishment of EPRC has faced many difficulties, but began with two individuals of Delacour's langur and Hatinh langur confiscated from the illegal wildlife trade. The Center currently houses about 160 individuals of 15 species and sub-species in which 6 species nowhere else in captivity. These include Delacour's langur (Trachypithecus delacouri), Hatinh (Trachypithecus laotum hatinhensis), Black langur (Trachypithecus laotum ebenus), Lao langur (Trachypithecus laotum laotum), Cat Ba langur (Trachypithecus poliocephalus poliocephalus), and Grey-shanked Douc langur (Pygathrix cinerea).
Turtle Conservation Center:  The center encompasses an area of about 7,000 square meters comprised of enclosures, aquatic tanks, and specialized breeding and holding facilities for more than 600 turtles representing 19 of Vietnam's 25 native species . Most animals at the TCC have been confiscated by wildlife protection authorities from the illegal trade or were hatched at the center